"Friends", the iconic sitcom that captured the hearts of millions around the world, continues to be a beloved show even years after its final episode aired. With the advent of streaming platforms like HBO Max, fans can now indulge in binge-watching their favorite episodes whenever and wherever they want. However, there may be times when an internet connection is unavailable or unreliable, making it inconvenient to stream. In such cases, downloading "Friends" episodes from HBO Max becomes a fantastic option.
Downloading Friends from the HBO Max APP is easy, but please note that you can only download episodes to your mobile device, how many episodes you can download depends on the memory of your device. If you want to download full seasons of Friends, your best bet is to store them in MP4 format on an SD card or USB drive, and you can transfer these videos to watch on any device. To download Friends in MP4 format, you need a professional third-party tool to help you - TunePat HBOMax Video Downloader is such a trustworthy and powerful tool. With it, you can easily download Friends or any other HBO Max series in MP4 format. In the following, we will introduce TunePat HBOMax Video Downloader in detail and show you how to use it to download full seasons of Friends as MP4 files, allowing you to enjoy the adventures of Rachel, Ross, Monica, Chandler, Joey, and Phoebe offline.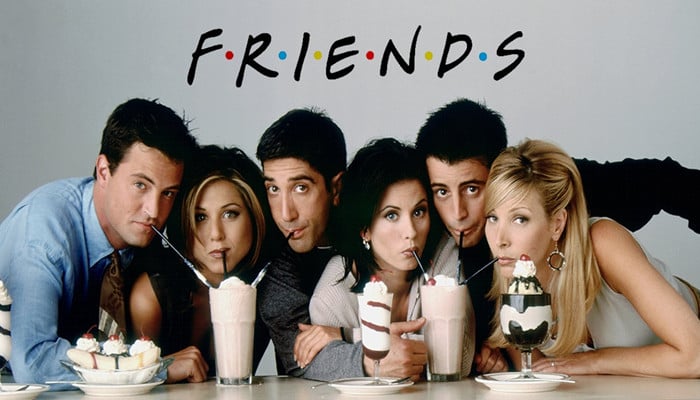 The Plot for Each Season of Friends
Before downloading, we will take you to briefly review the plots of each season of Friends, so that you can quickly lock which seasons you need to download. If you want to download all ten seasons in one go, that's perfectly fine too.
Season 1 (1994-1995)
The series begins with six friends living in New York City: Ross, Monica, Chandler, Joey, Rachel, and Phoebe. The season focuses on their lives as they navigate relationships, work, and various comedic situations. Ross is dealing with his recent divorce from his wife, Carol, who left him for another woman. Rachel, Ross's high school crush, enters the group after running away from her wedding. Monica is Ross's sister and is a chef who obsesses over cleanliness and order. Chandler is known for his sarcastic sense of humor, and Joey is an aspiring actor. Phoebe is a quirky musician. Throughout the season, the friends face challenges, make new relationships, and develop a strong bond.
Season 2 (1995-1996)
In the second season, the friends continue to navigate their personal and professional lives. Ross starts dating Julie, which leads to complications with his feelings for Rachel. Monica begins dating Richard, a friend of her parents who is significantly older. Chandler develops feelings for Kathy, Joey's new girlfriend, which strains their friendship. Phoebe discovers that her birth mother is alive and reconnects with her. The season explores the dynamics of friendship, love, and growing up.
Season 3 (1996-1997)
This season delves into the romantic relationships of the friends. Ross breaks up with Julie and confesses his love for Rachel, leading to a complicated on-again, off-again relationship. Monica and Richard break up, and Monica starts dating other men. Chandler struggles with commitment when he meets Janice, his ex-girlfriend. Joey develops feelings for Rachel, which causes tension within the group. Phoebe discovers that her half-brother, Frank Jr., needs a surrogate mother for his triplets. The season explores themes of love, loyalty, and the challenges of adult relationships.
Season 4 (1997-1998)
Ross and Rachel's relationship remains a central focus as they try to navigate their feelings for each other. Monica begins a serious relationship with Chandler, which they initially keep secret from their friends. Joey's acting career starts to gain traction, and he lands a leading role in a soap opera. Phoebe falls in love with a police officer named Gary. Ross's ex-wife, Carol, and her partner, Susan, get married, and Ross becomes more involved in his son Ben's life. The season features comedic misunderstandings, personal growth, and the ups and downs of romantic relationships.
Season 5 (1998-1999)
Ross and Rachel's complicated relationship takes center stage once again as they break up and try to move on. Ross gets married to Emily in London but accidentally says Rachel's name during the wedding ceremony, creating a cliffhanger ending to the season. Monica and Chandler's secret relationship is revealed to their friends, leading to both excitement and complications. Joey's soap opera is canceled, and he takes on various odd jobs to make ends meet. Phoebe begins dating a scientist named David, but her ex-boyfriend Mike re-enters her life. The season explores themes of commitment, trust, and the consequences of past actions.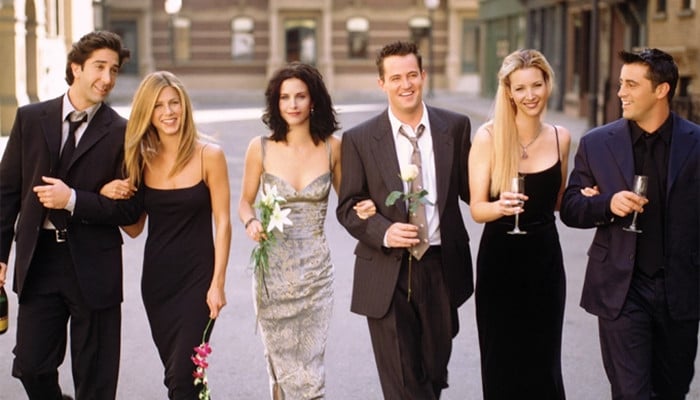 Season 6 (1999-2000)
The aftermath of Ross's wedding blunder unfolds as he tries to salvage his relationship with Emily. Monica and Chandler move in together and face the challenges of living as a couple. Rachel starts a new job at Ralph Lauren and develops feelings for her colleague Mark, causing tension with Ross. Joey falls in love with his new roommate, Janine, but their relationship doesn't last. Phoebe begins dating Mike, and they eventually get engaged. The season showcases the evolving dynamics among the friends, their professional endeavors, and the pursuit of love and happiness.
Season 7 (2000-2001)
Monica and Chandler decide to get married, leading to a wedding planning frenzy. However, they face hurdles along the way, including Chandler's cold feet and the revelation that Monica wants to have children. Ross and Rachel's complicated relationship continues as they struggle with their feelings for each other. Phoebe and Mike's wedding plans also hit a bump when Phoebe discovers that Mike never officially divorced his previous wife. Joey lands a leading role in a movie, but it ultimately fails, impacting his acting career. The season explores the complexities of commitment, marriage, and the challenges of maintaining friendships.
Season 8 (2001-2002)
Monica and Chandler face difficulties when they try to conceive a child, leading them to explore other options. Ross becomes involved in a love triangle between Rachel and his girlfriend, Bonnie. Eventually, Ross and Rachel decide to give their relationship another try. Phoebe becomes a surrogate mother for her brother Frank Jr. and his wife, Alice. Joey falls for Rachel but realizes his feelings are unrequited. The season showcases the characters' personal growth, the exploration of parenthood, and the resilience of friendships.
Season 9 (2002-2003)
Monica and Chandler finally receive the news that they have been chosen as adoptive parents, leading to a series of emotional and comedic moments. Ross and Rachel navigate their relationship as they become parents to their daughter, Emma. Phoebe and Mike plan their wedding, which leads to a heartwarming ceremony. Joey's acting career takes a major hit when his TV show is canceled, and he embarks on a journey to find new opportunities. The season explores themes of family, commitment, and the challenges of balancing personal and professional lives.
Season 10 (2003-2004)
The final season of Friends focuses on the characters' journeys towards new beginnings. Monica and Chandler prepare to move out of their apartment and start a family, while Rachel accepts a job offer in Paris. Ross realizes his feelings for Rachel and tries to stop her from leaving. Phoebe and Mike get married, and Joey finds success with a new TV show. The season concludes with the friends saying goodbye to their iconic apartment, and Ross and Rachel finally confess their love for each other. The series ends on a bittersweet note as the friends go their separate ways, but with the assurance that their bond will endure.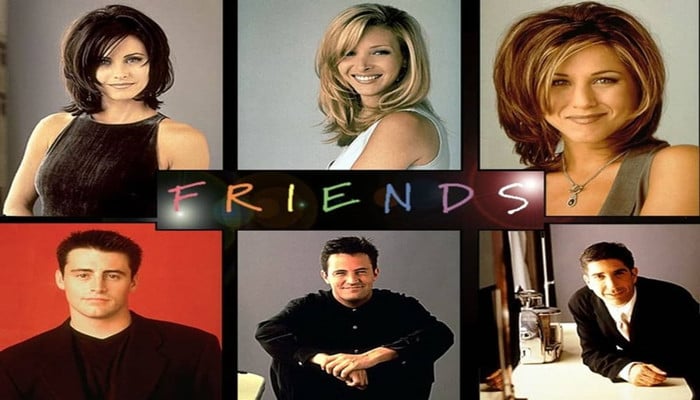 Download Friends as MP4 Files with TunePat
TunePat HBOMax Video Downloader is a capable downloading tool that allows you to download HD movies and TV shows from HBO Max in MP4 or MKV format. Whether you want to watch your favorite HBO Max shows on your smartphone, tablet, computer, or even your smart TV, this software has got you covered. One of the standout features of TunePat HBOMax Video Downloader is its ability to save videos indefinitely. This downloader also excels in efficiency, allowing you to download videos in batches at a fast speed. Say goodbye to the hassle of downloading videos one by one. With TunePat HBOMax Video Downloader, you can save time and effort by downloading multiple videos simultaneously.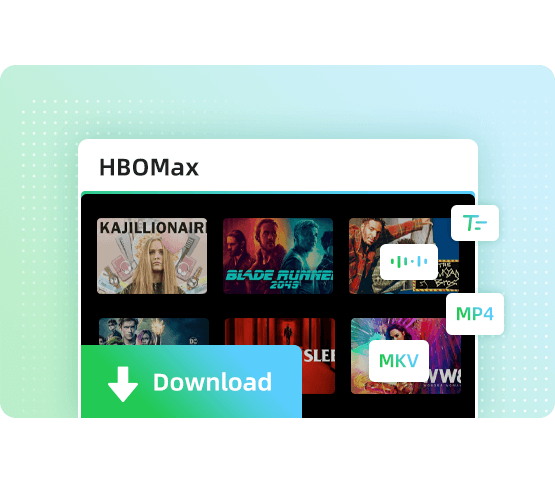 TunePat HBOMax Video Downloader
Download movies and TV shows from HBOMax.
Save HBOMax videos in MP4/ MKV format.
Keep multi-language audio tracks and subtitles.
Download videos in batch without the HBO Max app.
Preserve audio tracks (including 5.1 audio) and subtitles.
Support up to 26 languages.
Guide: Download Friends as MP4 Files
In the following, we will guide you through the process of using TunePat to download full seasons of Friends in MP4 format, ensuring a seamless offline viewing experience.
Step 1 Log in to HBO Max on TunePat
Launch the program and enter any word in the search bar to open the HBO Max login window. Please log in with your HBO Max account.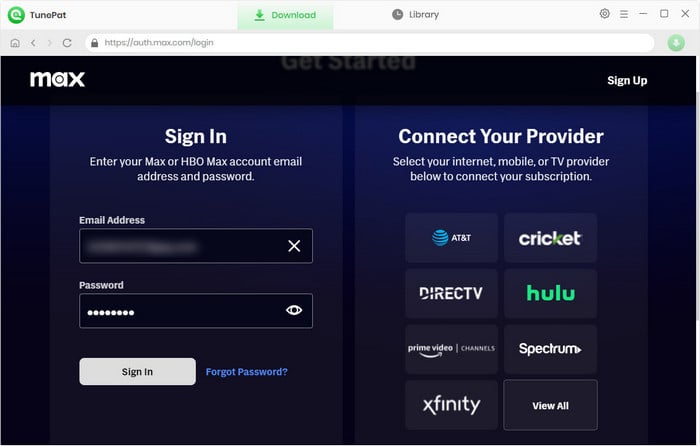 Step 2 Enter the Name or URL of an HBO Max Video
You can search for your videos by name, such as "Friends," or by URL.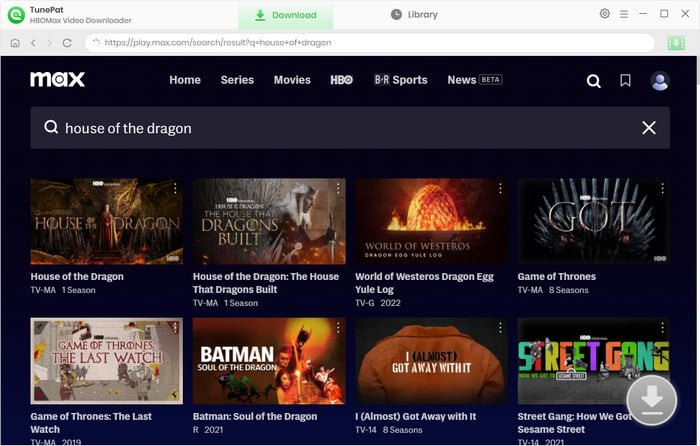 Step 3 Customize the General Settings
Click the gear icon on the upper-right corner to open the "Settings" window. Here you can set the video format, video quality (High/Medium/Low), output path, select audio language and subtitle language, etc.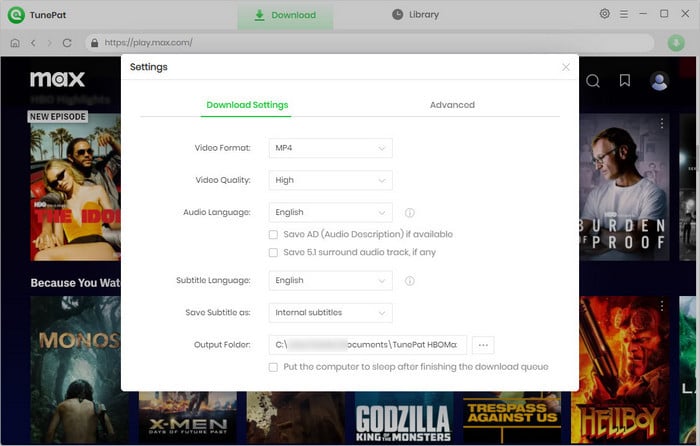 Step 4 Select the Advanced Settings for Certain Videos
For TV shows, click the download icon and select the season and title from the pop-up window. Then click the "Advanced Download" button on the bottom left to choose the advanced settings. For movies, there is an "Advanced Download" icon next to the "Download" icon, which you can choose the specific video quality, audio tracks and subtitles for the selected movies.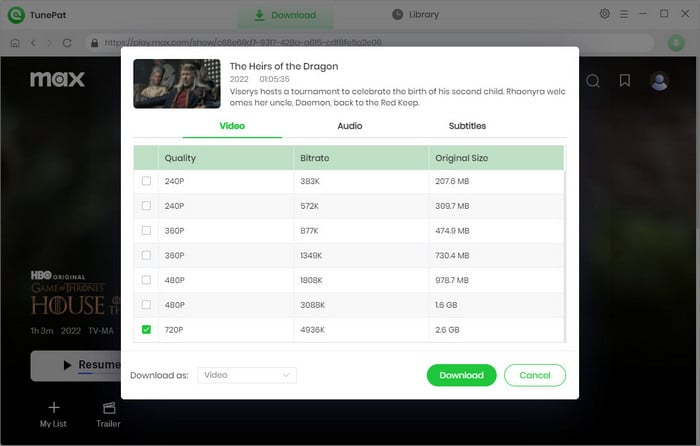 Step 5 Download HBO Max Videos
The last step is to click the "Download" button. All your selected videos will be added to the download column and shown on the right side of the program.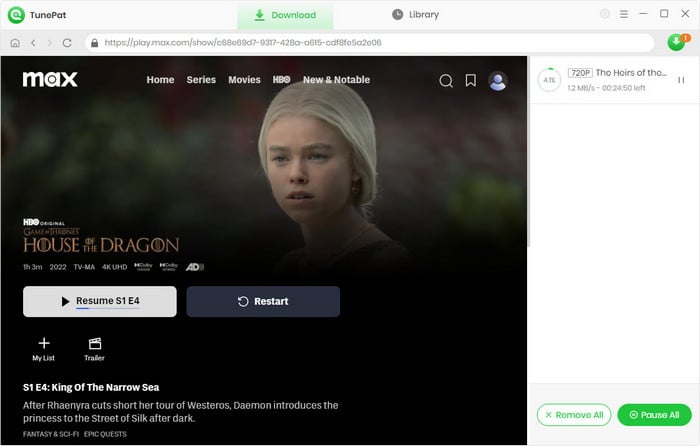 Conclusion
In summary, TunePat HBOMax Video Downloader is a feature-rich software solution that empowers you to expand your HBO Max viewing experience. With the ability to download HD movies and TV shows, save them in your preferred format, transfer them to any device, download videos in batches, and preserve audio tracks and subtitles, this downloader provides the convenience and flexibility you need to enjoy your favorite HBO Max content offline.
Note: The free trial version of the TunePat has the same features as the full version, but it only enables you to download the first 5 minutes of each video. To unlock the limitation, you are suggested to purchase the full version.

We also Recommend: TunePat VideoGo All-In-One
Here is an all-in-one tool called TunePat VideoGo All-In-One to help you download videos from Netflix, Disney+, Prime Video, Hulu, YouTube, Facebook, and more, and save videos in MP4 or MKV format! Learn More >>