Find Amazon Video Download Location on Android and PC
One of the perks of Amazon Prime membership is that you have access to thousands of movies and shows from Prime Video without an extra fee. Apart from browsing and watching Prime Video online, subscribers also can download and play Prime Video titles without an internet connection by making full use of the download function on the Amazon Prime Video app. Given the storage space of devices, Amazon allows users to change the download location on Android and Windows 10. Here some may wonder: how can we find the default storage location for Prime Video titles? Fret not, this article will walk you through how to find the download location of Amazon Prime Video on Android and PC.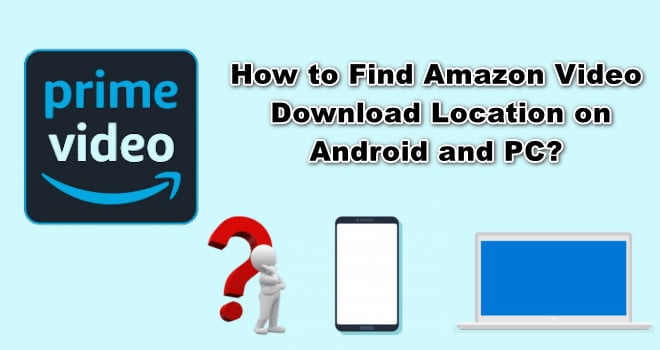 1. Where are Amazon Prime Video Downloads Stored on Android?
If you've downloaded some movies or shows from the Amazon Prime Video app and want to watch them on your Android phone, tap the Menu tab and press Download, then select the video you want to watch. If you want to find the download location of those video files, follow the below steps:
Step 1 Open File Manager on your Android device.
Step 2 Find the downloaded Amazon Video folder by following the path "internal storage/android/data/com.amazon.avod.thirdpartyclient" or "/data/data/com.amazon.avod.thirdpartyclient".
2. Where are Amazon Prime Video Downloads Stored on PC?
Below is how to locate the downloaded Amazon videos in Windows 10.
Step 1 By default, the Amazon Video folder is hidden, so you need to configure the File Explorer to show the hidden items first. Open the File Explorer on your computer, then click the "View" tab and select "Hidden items".
Step 2 Navigate to the below path and you will find the downloaded Amazon videos here. C:\Users\UserName\AppData\Local\Packages\AmazonVideo.PrimeVideo_pwbj9vvecjh7j\LocalState\Downloads
Note: In the above path, "C" means the C drive where the Amazon Prime Video app is installed, and the "UserName" is your user account name.
If you've downloaded many movies or TV shows on your devices, you might quickly find yourself short on storage. In this case, it would be better if the downloaded videos can be saved to an SD card or external drive. However, you may have noticed that all Amazon videos are saved in a proprietary format, which prevents you from moving the downloaded videos to other devices except for the Amazon Prime Video app.
3. Tip: How to Save Amazon Prime Video Anywhere?
The good news is that some practical tools provided by third parties can help you download Amazon movies and TV shows in a common MP4 format that is compatible with most media players and devices. TunePat Amazon Video Downloader is the best among the kind of video downloading tools. Taking advantage of the intelligent information analysis processing core, TunePat can search for Amazon videos by name or URL of the videos, and download any Amazon videos with high resolution (up to 1080p) kept. With this smart tool, you will get Amazon movies and shows downloaded in MP4 or MKV format with multi-language audio tracks and subtitles kept.
Additionally, TunePat is highly compatible with Windows 7/8/10/11 and Mac (macOS 10.11 or above) computers, you can not only download Amazon videos to your Windows PC or Mac but also move your downloaded videos to other devices for offline viewing without any restrictions. The following part will show you how to use this powerful program to download unlimited videos from Amazon Prime Video.
Steps to Download Netflix Videos with TunePat
Step 1 Launch TunePat and Sign in to Amazon Prime
Install the latest version of TunePat Amazon Video Downloader on your computer and launch it. Enter some words into the search bar and press "Enter", TunePat will ask you to sign in to Amazon.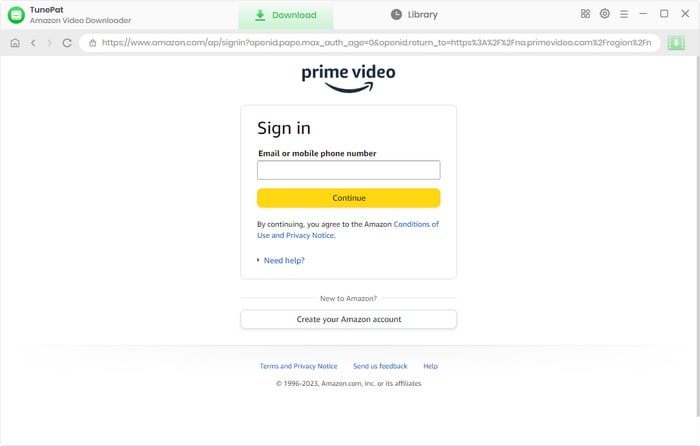 Step 2 Search for Amazon Videos by Name or URL
Enter a video's name or copy and paste the URL from the web player into the search bar and hit "Enter" to find the content that you want to download.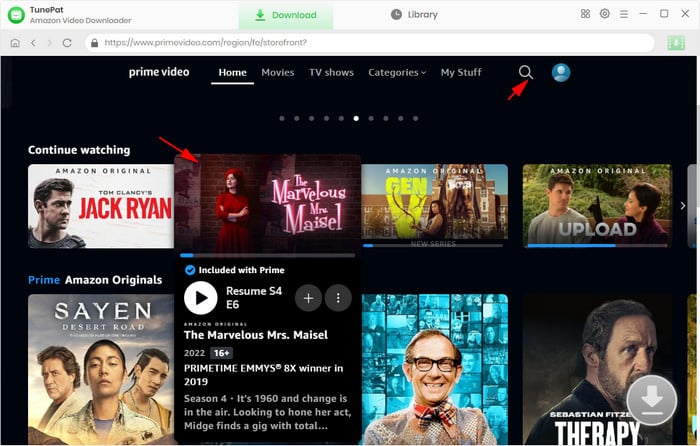 Step 3 Choose the Output Settings
Click the

icon on the upper right corner and choose the video quality, video format, and the language of audio tracks and subtitles. In addition, you can select the method of saving the subtitle files and the folder location where the output files will be saved.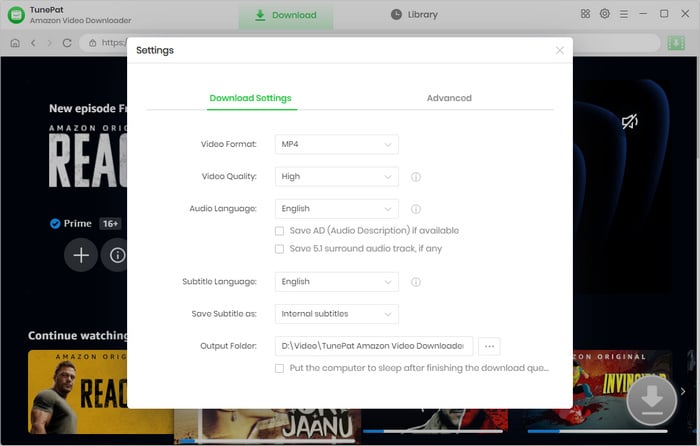 In addition, there is an advanced download option that allows you to choose the specific video quality, audio, and subtitles for each video.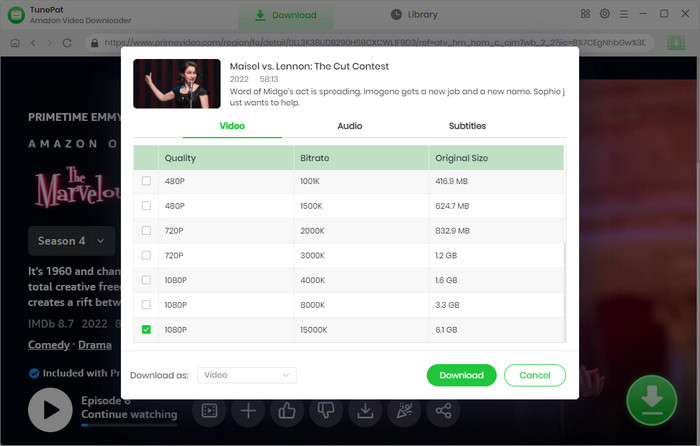 Step 4 Download Amazon Videos
Directly click the "Download" button to start downloading the selected videos on by one.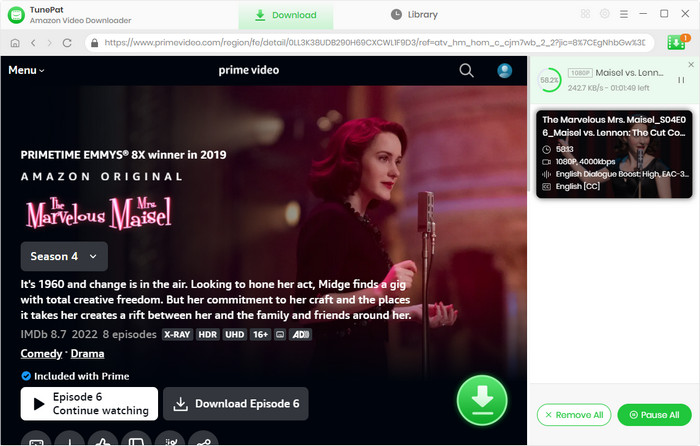 Step 5 Find the Downloaded Amazon Videos
Once the videos are downloaded, click the "Library" tab to find the download history. Click the folder icon behind each video to find the downloaded videos from the local drive. Now you can move them to any device.
Conclusion
Thanks to the download functions added to the Amazon Prime Video app, subscribers can download movies and series from Amazon Prime Video for offline viewing. But sometimes, the storage spaces of our mobile devices and PCs might be not enough to save a number of videos. In this case, you can use TunePat Amazon Video Downloader to download Amazon videos and move them to other devices.
Note: The free trial version of the TunePat Amazon Video Downloader has the same features as the full version, but it only enables you to download the first 5 minutes of each video. To unlock the limitation, you are suggested to purchase the full version.

We also Recommend: TunePat VideoGo All-In-One
Here is an all-in-one tool called TunePat VideoGo All-In-One to help you download videos from Netflix, Disney+, Prime Video, Hulu, YouTube, Facebook, and more, and save videos in MP4 or MKV format! Learn More >>