How to Download Movies from Netflix in HD Quality (1080P)
Whether it is for travel or for a cozy night in, downloading Netflix videos in high quality is the perfect solution for those seeking optimal visual enjoyment. Netflix allows subscribers who have a Netflix Basic/Standard/Premium plan to download videos for offline viewing. Netflix offers two quality levels for downloads: Standard and High. The latter seems to be high definition — somewhere between 720p and 1080p resolution. As long as paying for the Standard or Premium plan, you can download a video at up to 1080p quality.
While it's easy to download videos from the Netflix app, not all videos are available to download. Luckily, it is possible to download any of Netflix videos in HD quality with the help of TunePat Netflix Video Downloader. Therefor, this article will introduce to you how to use this powerful video downloader to download Netflix videos in HD quality (up to 1080p).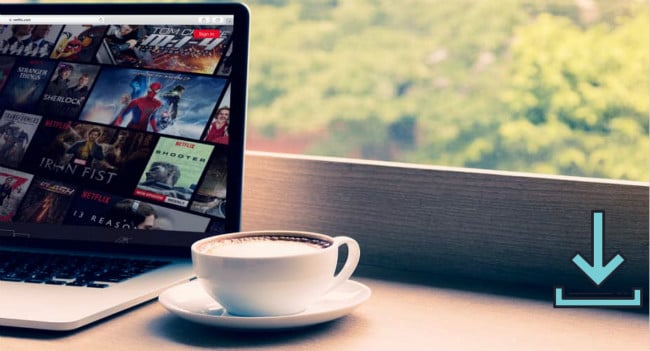 Why Use TunePat Netflix Video Downloader to Download HD Videos from Netflix?
TunePat Netflix Video Downloader is specially designed to download movies and TV shows from Netflix. With this simple video downloader, you can easily download any movie or television show in 720p or 1080p. What's more, it offers the option to select video quality according to video bitarate and file sizes. Besides, it can support downloading Netflix video in MP4/MKV format while keeping all of audio tracks and subtitles. You can save the downloaded videos on your computer or other devices and play them anytime and anywhere.
Tutorial: Use TunePat to Download Netflix in HD Quality (1080P)
Step 1 Launch TunePat and Log in with your Netflix account
Start by launching the program on your Windows or Mac computer. Locate the "Sign in" option in the top right corner, and proceed to log in to your Netflix account.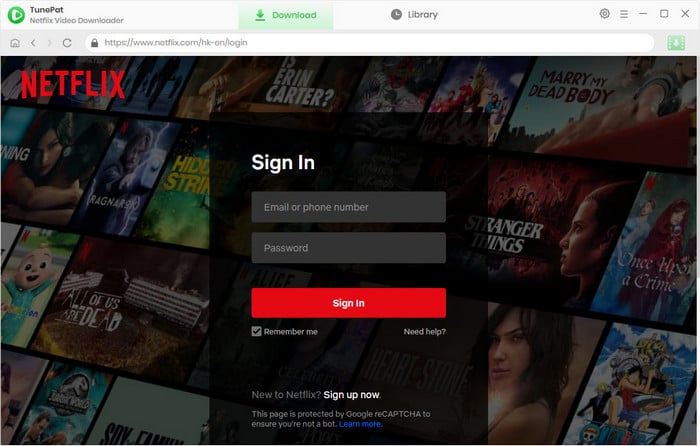 Step 2 Find Netflix Videos
Next, navigate to the movie or TV show you want to download. Once found, select the video and click the green download button in the lower right corner. Alternatively, you can use the search icon in the upper right corner to find what you're looking for.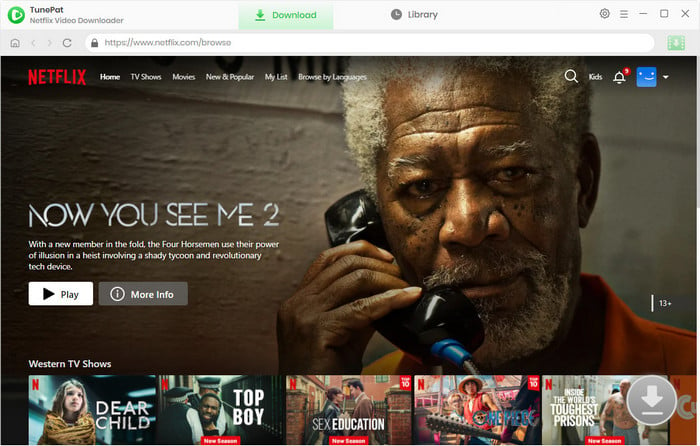 Step 3Choose Download Quality
Click the "Settings" icon in the upper right corner to choose the output settings. Under the "Downloads Settings" heading, click or tap Video Quality and select the quality as "High". Besides, you can choose the specific video quality (720p or 1080p) in the "Advanced Download" section.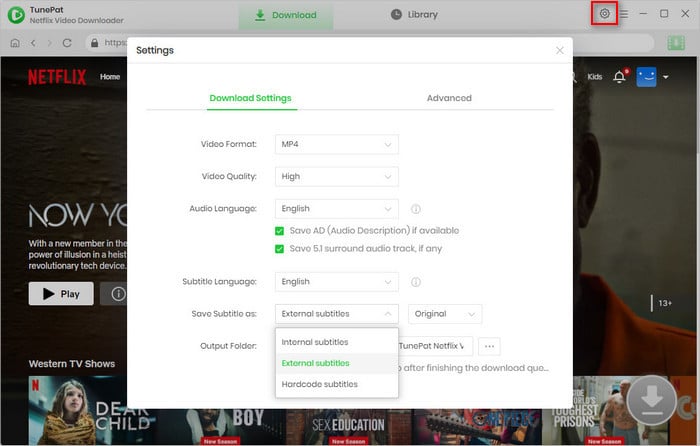 Step 4 Start Downloading Netflix Movies
To begin downloading a title, click the "Download" icon affixed to the show or movie you want to watch (looks like an arrow). If you wish to add more titles to the download queue, simply repeat the aforementioned steps.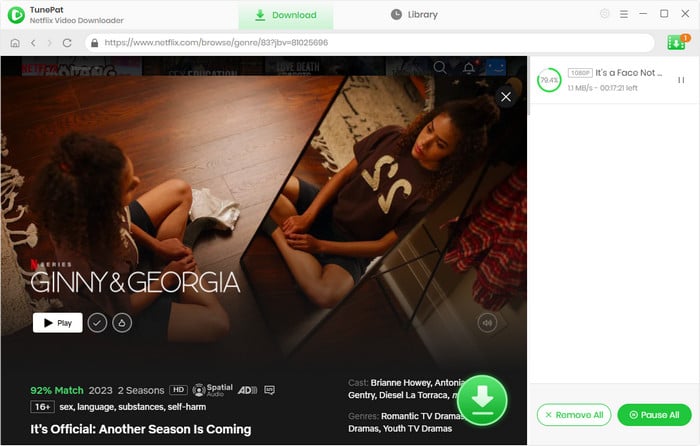 Conclusion
The benefit of using TunePat Netflix Video Downloader goes far beyond being able to download HD videos from Netflix to any device. Even if you have a Netflix Ad-supported plan, TunePat can also help you download any video that you can access in the Netflix web player in high quality. What's more, with TunePat, you can save all videos forever and watch them at any time without limits. If you're interested, just download it for a free trial.
Note: The free trial version of the TunePat Netflix Video Downloader has the same features as the full version, but it only enables you to download the first 5 minutes of each video. To unlock the limitation, you are suggested to purchase the full version.

We also Recommend: TunePat VideoGo All-In-One
Here is an all-in-one tool called TunePat VideoGo All-In-One to help you download videos from Netflix, Disney+, Prime Video, Hulu, YouTube, Facebook, and more, and save videos in MP4 or MKV format! Learn More >>