How to Watch Netflix Videos Offline on PlayStation 4?
It is known that Netflix is available on Sony's PlayStation 4. Netflix streaming features offer you the possibility to stream TV shows and movies up to 1080p resolution. Titles bearing the HD symbol are broadcast in high definition if your internet connection supports a bitrate of at least 5 megabits per second. You can browse rows of movie posters or select "Search" to find movies by installing the Netflix app on PS4. You can also use the Netflix app on an iPad, iPhone, iPod touch, or Android device as a 2nd Screen for your Sony PlayStation Netflix app.
To access Netflix on your PlayStation 4, please make sure you are connected to the PlayStation network. This means that Netflix is unavailable when the PSN is down. Some of you may argue that downloads for offline streaming are allowed if the PS4 has installed the Netflix app. But there are more things you need to know about downloading Netflix movies and TV shows. One is that the download function is not available on the Netflix app on PS4. The other is that your downloads are not permitted to transfer to PS 4 from other devices for watching even if you have so-called downloaded it. Is there any way to watch Netflix videos offline on PS4?
Of course, there is! TunePat can help you get rid of the problems by using its Netflix Video Downloader, which is a powerful video tool for downloading Netflix movies and TV shows without limitations. In the following, we will show you how to use TunePat to download Netflix movies and TV shows and watch them offline on PS4.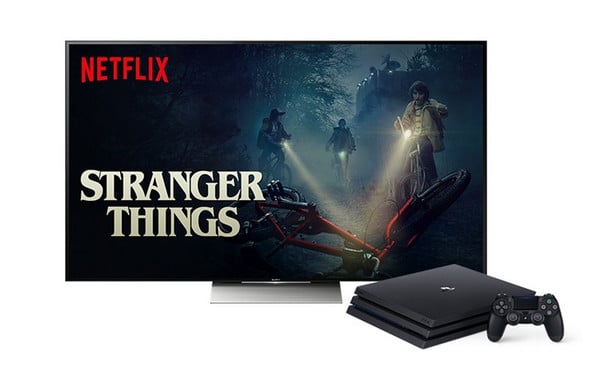 What is TunePat Netflix Video Downloader?
TunePat Netflix Video Downloader is a professional Netflix video downloader that supports downloading Netflix movies and TV shows in HD quality (up to 1080p). What's more, featured with a unique downloading core, this tool is able to download videos from Netflix via name search and URL recognition, resulting in a fast and highly-effective downloading process. And it also provides a batch mode to let you download a season of shows in one go. Additionally, TunePat can save the subtitles and audio tracks in multilingual languages at the same time, so you don't need to worry about language barriers at all. Considering your different needs for subtitles, TunePat gives you the options of three kinds of subtitles: External subtitles, Internal subtitles, and Hardcore subtitles.
Since TunePat Netflix Video Downloader downloads the videos from the Netflix official web player, you can enjoy the same viewing experience as the original videos. And the related information about the downloads is also well saved so that you can easily manage a large number of downloads easily as well. What's more important, the downloads will never expire once downloaded by TunePat!
Guide: How to Download Netflix Movies and TV Shows with TunePat?
Now we will show you how to use TunePat to download Netflix movies and TV shows to play them on PS4 without a network. Before going deeper into it, please ensure that you have installed the newest version of TunePat Netflix Video Downloader.
Step 1 Run TunePat and Sign in Netflix Account
Begin by launching the program on your computer. In the top right corner, click on "Sign in" and log into your Netflix account.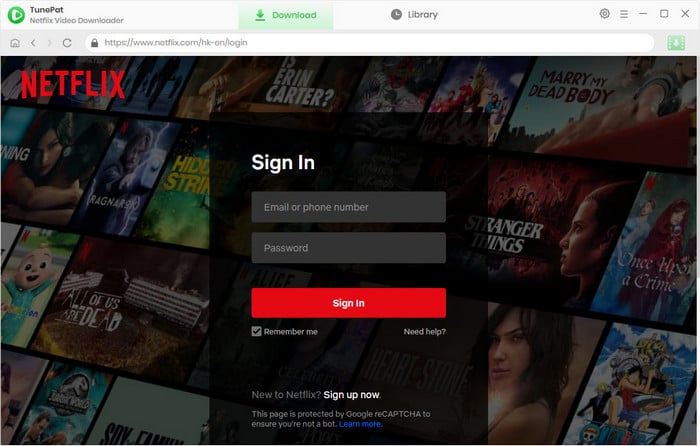 Step 2 Set Output Quality, Output Path, Etc.
Click the "Settings" button on the top right corner of the interface where you can set the video quality as High, Medium, and Low. After that, think about where you want the downloads to be saved and then set the location accordingly. If you have a requirement for video codecs, TunePat can also meet your needs. Click "Advanced", then you can see the option to set it as H.264 or H.265.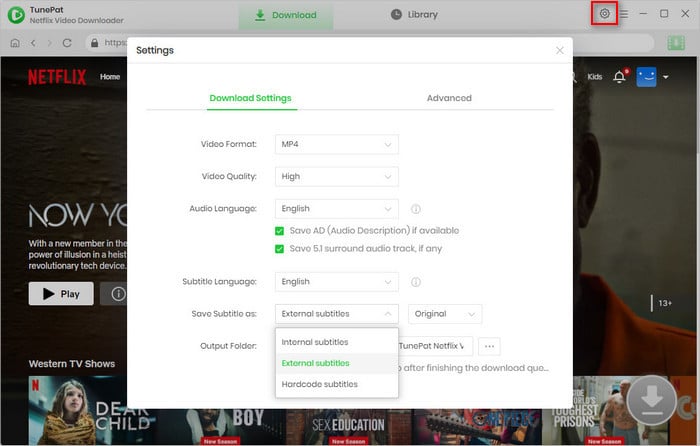 Step 3Search for Netflix Movies and TV shows
Locate the movie or TV show you wish to download and select the desired video. Also, you can use the search icon in the upper-right corner to find your video.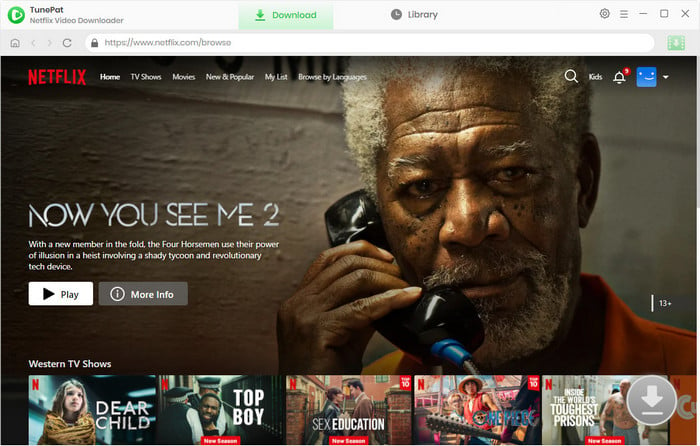 Step 4 Customize the Advanced Download Settings
You have the option to customize your download settings in this step. This includes selecting video quality, audio tracks, and subtitles. If you're downloading a movie, you'll be presented with the advanced download settings window after clicking the download button. For TV shows, you'll need to choose the episodes first and then click the "Advanced Download" button to access the settings.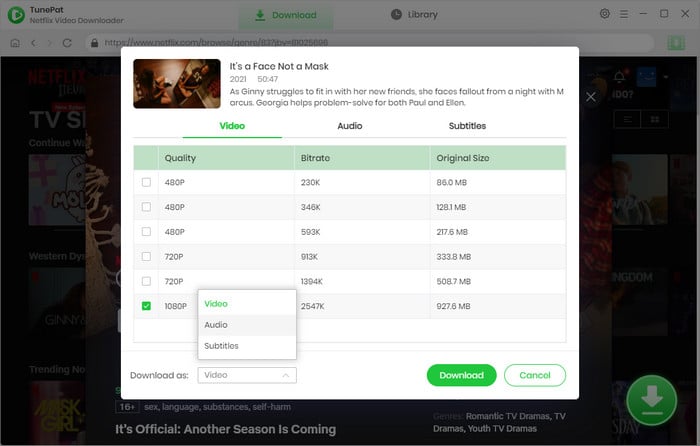 Step 5 Strat to Download Netflix Movies and TV Shows
Find the video you need and click the "Download" arrow to start downloading. All videos you want to download will be displayed on the right side and will be downloaded in order. If you want to add more titles to the download queue, simply repeat the above steps. After downloading, you can click the "Library" to quickly browse to the folder where the videos are saved.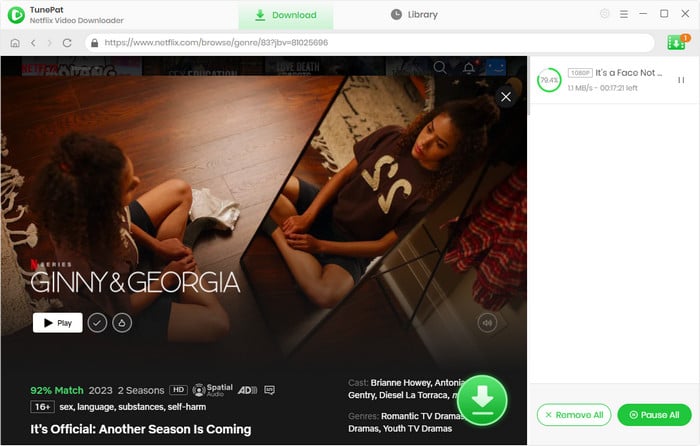 Step 6 Transfer Video Files to USB for Streaming Them on PS4
1. Plug a USB drive into your computer and create a folder called "Video" in the USB storage. Then copy the downloaded files into the folder. After that, please remove the USB from your computer safely.
2. Plug the USB into a port on the front of the PS4. Next, find the "Media Player" app on PS4 and select the USB drive and browse the videos you want to play. Then you can enjoy the downloads on your PS4 without any limit.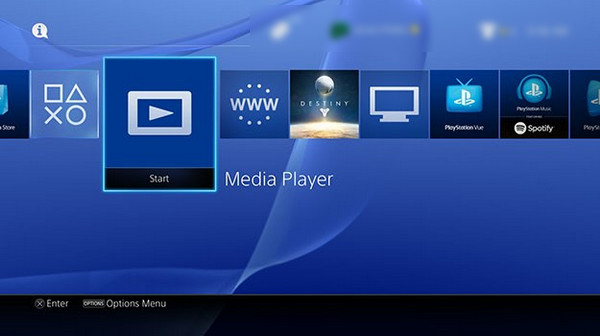 Conclusion
You cannot stream Netflix without connecting to PSN. Even though you choose to download Netflix videos for playback, there are still certain titles that are not supported to download. Here we sincerely suggest you download Netflix Videos with TunePat Netflix Video Downloader and provide you the detailed steps of downloading Netflix videos and watching them offline on PS4. Then you can stream any Netflix video without worrying about this and that. Why not give TunePat a try as we offer free trials?
Note: The free trial version of the TunePat Netflix Video Downloader has the same features as the full version, but it only enables you to download the first 5 minutes of each video. To unlock the limitation, you are suggested to purchase the full version.

We also Recommend: TunePat VideoGo All-In-One
Here is an all-in-one tool called TunePat VideoGo All-In-One to help you download videos from Netflix, Disney+, Prime Video, Hulu, YouTube, Facebook, and more, and save videos in MP4 or MKV format! Learn More >>